---
————————
FUNDRAISER FOR BRUNO'S LIFE-SAVING TREATMENT
Please watch the video above for Bruno's story. Then scroll down to the Donation form and options to help Bruno with his life-saving treatment. To read Bruno's backstory and other details, scroll down past the donation form.
Sweet Bruno had been rescued from the mean streets, and was so happy to move in with his bonded-kitty-friend to a loving foster-to-adopt home. Sadly, after a few happy months, this playful, outgoing kitty was diagnosed with FIP.  While it has been devastating for Bruno and his human, his treatment to curb the disease has shown promise. His human has already spent $ 4,500 for his tests and vet care and will need to spend $ 5,000+ more for the FIP treatment – so we'd like to help with the latter at least….as it's a lot for one person. Little Bruno needs your help!
Little Bruno was rescued as a kitten in September '21 from a rough parking lot on Jamaica Ave, Queens, NYC, where he'd kept sadly crying loudly all day, but would keep hiding in some bushes when approached. One of our core volunteers finally got him at 10 pm that night. He had been rescued along with another little kitten Maria who had been dumped on the Belt Parkway and was limping and scared. Both kittens bonded immediately at their rescuer's, the outgoing Bruno being a comfort to shy Maria and were placed for adoption together that December.
Warm, gregarious Bruno won many hearts at the adoption alcove inside NYC Pet in Park Slope, and much to their joy, finally got into a nice foster-to-adopt situation just two days before New Year 2022. They were so happy to be with their new human who doted on them. Their human recently lost their dad too early this year and the kitten-duo have been a great comfort to them.
Tragically, this March-end, hitherto sweet, playful Bruno started showing signs of sickness and weakness. His adopter took him to the emergency vet clinic VERG – which ran a series of tests, and after ruling out other possibilities, diagnosed poor Bruno with FIP (Feline Infectious Peritonitis). Just Bruno's VERG bills alone came to around $ 4,500 which his foster-t0-adopter footed.
Bruno is now on the new FIP medication that has proven promising for other similar cats. Should the treatment prove successful he will live a healthy, fulfilling life. We are hopeful and have our paws crossed, as he has responded favorably to the very first dose itself. 
In addition to the amount ($4,500) his human has already spent, his FIP treatment and follow-up blood tests will cost another $5,500.  (click to enlarge images below for the VERG invoice). The FIP medication estimate is based on an online site which supplies FIP meds.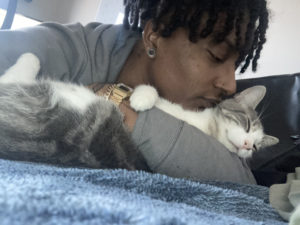 The total amount of Bruno's treatment (nearly $10,000) is a lot for one person to cover and while they adore Bruno and will do everything to help him survive and thrive, For Animals would like to help out his human with the big cost of the treatment. And we are hoping you can help us and help innocent Bruno – who was so full of life before he fell sick, and deserves every chance to be back to his full health and big personality again.
So we would like to raise at least half of Bruno's vet and treatment costs.
Please help Bruno is any way you can! Any amount helps!
---
FUNDRAISER FOR MADDIE'S CRUCIAL TREATMENT
o o o
This post came up initially on August 7, 2021. Updates after August 10 have been added and related edits made.
Maddie was rescued from one of the meanest areas in Queens, NYC, in mid-April. She had lived a sad, hard, unloved life on the streets for some 6 years, scrounging unsuccessfully for food and shelter, and abused by cruel humans and picked on by other strays.
When For Animals' volunteer Maddy first received the text from a concerned citizen visiting the neighborhood, the person kept referring to the cat as a "kitten" who was living on a dilapidated site, which was soon going to be constructed upon, and that the "kitten" had faced human cruelty in the past.
Turns out – she was no kitten – but an adult just SO severely emaciated and starving, that when For Animals volunteer Martha rescued her, and she was taken to Theresa's shelter – she ravenously ate for several straight days – she'd starved for so long. (See video above)
Covered with wounds and lacerations from her hard life on the streets, Maddie was extremely grateful to be rescued and was soon transferred to our Adoption Alcove in Park Slope, Brooklyn, where she would sleep for hours and hours – finally feeling safe where she didn't have to fend off attacks on the streets.
But sadly, through no fault of Maddie, her adopter decided that her new work schedule wouldn't suit her, that she didn't want to get a sitter, and decided to return Maddie informing For Animals on August 4 of her decision that she no longer wanted to keep Maddie.
Unfortunately, the timing couldn't have been worse – as Maddie's crucial vet stay was on August 9, where she needed an iodine I-131 injection and needed a place to recuperate once discharged.
You see, when For Animals, had taken Maddie for her initial check-ups, vaccinations, spay etc. it was found that she had a murmur in her heart. A cardiology consultation and subsequent tests led to the diagnosis that poor Maddie had hyperthyroidism – which, fortunately, can be curtailed with treatment.
She also needs extensive dental work which needs to be done after the treatment of her hyperthyroidism. For Animals had already committed from the start to take care of Maddie's vet bills as her conditions were pre-existing before adoption. (It's just unfortunate that she was returned at such a vulnerable time and state, when she needed a home the most. Instead, she lost it.)
All in all, it has been a rough ride for Maddie, but also for For Animals – which has had one of its most trying years since its inception due to rising costs, several expensive cat emergencies and the humongous workload that tripled during the pandemic year.
You can check out Maddie's treatment diagnoses and estimates in the documents attached below. (CLICK TO ENLARGE)
Based on the prior and upcoming expenses, we need to raise around $ 5000 (LIVS treatment $ 1700, which could possibly have repeat treatments thereby doubling costs; the estimate by the Animal Endocrine clinic was 3250), Dental $ 1200, VERG cardiac costs $ 730, Vet check-ups, CBC tests, T4 tests, blood work, meds etc. – $ 1200, follow-up visit estimates – $ 400 – 600.
As a small non-profit already burdened with our daily expenses (see videos from last year) this is a LOT. We've also sadly had a string of really sad cases where the cats needed expensive treatment and we could not let them go without giving them a chance to survive and thrive which the vast majority of them did.
---
RENA's FUND FOR FELINE-FRIENDS
–RENA's FUNDRAISER FOR FRIENDS
Please read on….this fundraiser has been updated in Rena's memory for her other feline friends in need.
Update: August 20, 2021. It is with extreme sadness that we have to inform that despite no stone left unturned in Rena's treatment, and the very best of vet care, Rena lost her battle and a decision was reached by the vets and Rena's foster to humanely euthanize her.
Her initial surgery, scheduled at the Animal Medical Center on July 27, had been postponed as an examination showed that the reversed blood flow in her extra artery (which had been corrected due to the kind efforts of Best Pet Rx's compounded medicine) was back to its reverse direction. It was suggested by the AMC vet that the medicine dosage be increased and that she be re-examined. On subsequent visits to assess her, her condition hadn't improved, and worse – fluids had been building up in her body. On a visit on August 17 to drain the fluids and to conduct another echocardiogram, it seemed that this brave cat was fighting a losing battle.
Finally on August 19, 2021, the hard but ethical decision was made that Rena should be euthanized. Due to her very unique, history-making medical case, Dr. Fox at the AMC decided to hold on to her body for research.
We take solace in the fact that this cat at least experienced love and compassion during her short life of a year. Had she been out in the streets, where she'd been initially found suffering terribly as a 3 month-old, she'd have died an agonizing painful death early on vs. the comforts she received in a home where she was loved, cherished and no effort was spared to give her a chance at life.
Expenses for Rena's treatment since September 2020 were tremendous, several thousands of dollars – and while For Animals spent quite a bit – the vast majority of her treatment expenses was funded by a vested private donor and exceptionally good Smartian (and all-out kind soul/animal lover) who was particularly interested in Rena's case. We know we will never be able to recover the full amount, but we see it as a step to giving this sweet cat a shot at life, since vet diagnoses had suggested that after all her treatments she would live a normal life.
So, because we still have several cats in need who need varied medical help, including surgeries, we are converting this fundraiser to one in Rena's memory for her Feline Friends. The funds will be – as they always are – placed for the care of innocent rescue animals.
Thank you so much for your kindness! Any amount helps!
***–
Rena was rescued by For Animals last year when she was 3 months old.  On her vet visit, she was sent to be diagnosed further and her rare case intrigued doctors.
She's sweet and playful, but she tires easily and has difficulty meowing because of her condition. Without surgery, her prognosis is very poor. But with surgery this beautiful innocent kitty can live a longer, more comfortable life. Won't you help save her life?
In late July, Rena was scheduled for a life saving surgery at the Animal Medical Center NYC, to treat a rare congenital heart defect – an extra blood vessel between her aorta and pulmonary artery, through which blood flows in the wrong direction. 
She is one of only a handful of cats to have surgery for this condition, so she will be making history! Please send your best wishes for her recovery, and please make a donation to help us defray the ongoing and past costs of Rena's treatment.  (Please see documents from the Animal Medical Center)
It is A LOT and especially for a small non-profit no-kill rescue as ours. Any amount helps! Rena is counting on you!
[UPDATE: July 28 – The AMC after checking on Rena decided to postpone her surgery to a later date and recommended increasing her current med dosage, after which they will check further and then reschedule her surgery. Thank you so much all for your support!
UPDATE: August 10: Rena is scheduled to go to the AMC again on August 17 to drain fluids from her stomach and get another echocardiogram to evaluate her situation.
UPDATE: August 20: Please read the opening paragraph of this page. Rena's fundraiser is now for her friends.]
Any amount helps! Please feel free to enter a custom amount. Thank you for your support! 
The donation buttons are set through PayPal. After you click "donate now" it will take you to PayPal's secure site and you'll have the choice of selecting a credit card option or your PayPal account. There is no transaction fee. Thank you.
Option 2
---
FUNDRAISER TO RECOVER DIEGO'S SURGERY COSTS
Little Diego was found by one of our volunteers Martha in East New York around March 25, 2021. He was walking around looking for food. From the wounds on his body and his scrawny appearance, it was obvious he'd led a hard life on the streets. When she took him to be fixed, the veterinarian said he had entropion trichiasis. The condition is painful, so we scheduled him for corrective surgery as soon as possible. The surgery cost $600, pre-surgery bloodwork was $200 and Diego will also need complete dental (which is quite expensive but we're raising part of it – so only $200) – rounding up a total fundraiser goal of $1000 and hopefully we can raise a bit extra with the dental – so around $ 1400 if possible.
As you can see in the video-end, despite going through so much, he is just a little sweetheart.
Any amount helps! We are counting on you!
Any amount helps! Please feel free to enter a custom amount. Thank you for your support! 
The donation buttons are set through PayPal. After you click "donate now" it will take you to PayPal's secure site and you'll have the choice of selecting a credit card option or your PayPal account. There is no transaction fee. Thank you.
GOAL REACHED! Thanks to all these kind individuals. (Don't forget to click "load more" to see all the names)
Option 2
---
FUNDRAISER FOR LITTLE DICE'S LIFE-SAVING TREATMENT
We rely on donations such as yours to continue our life-saving work 365 days a year done by our small group of dedicated volunteers. Please help us help the innocent and the defenseless. Your help and compassion are needed now more than ever.
If you wish to read Dice's story instead of watching the video you can do so by scrolling down.
Any amount helps! Please feel free to enter a custom amount. Thank you for your support! 
GOAL REACHED! Thanks to all these kind individuals. (Don't forget to click "load more" to see all the names)
---
---
Here's a look back at our fundraiser from Autumn 2020. Scroll down for the Happy Update on Sage and her baby 🙂
We rely on donations such as yours to continue our life-saving work 365 days a year. Please help us help the innocent and the defenseless. Your help and compassion are needed now more than ever.
Any amount helps! Please feel free to enter a custom amount. Thank you for your support!
GOAL REACHED! Thanks to all these kind individuals. (Don't forget to click "load more" to see all the names)
Joan McDonald
January 26, 2021
Something for the kitties because it's my birthday!
Vibeke Alstad Jagne
January 12, 2021
Lynne Shevlin
January 11, 2021
In memory of Ellen's dear cat, Boo.
Janis Powell
January 1, 2021
You will remember me if we meet again st Theresa . Thank you for chipper and who you are.
Lauren Barnes
December 31, 2020
This in honor of Kimberly Brooks and her rescue cat, Paprika!
Lisa Madden
December 2, 2020
So close to your goal, I want you to get there tonight. Thank you for all your rescue work.
Stacy Glass
December 2, 2020
Thank you for all you do for the kitties
Jeanine Foote
December 2, 2020
Thank you for being a champion for cats!!
Anonymous
December 2, 2020
Adriana Jimenez
December 2, 2020
The sad saga of Sage: Sage a 3 year old mom-cat was found during another separate rescue mission by a dedicated For Animals' volunteer. Sadly, there are many, many like her who need our help every day.
The rescue mission was harrowing and involved scouting through fierce rain and storms – in the search of her lone kitten that this mama-cat was nursing. People in the neighborhood were not helpful and wouldn't answer doors.
When Sage had been found, she had a badly broken leg that had curved and fused inwards. It seems she was a former house-cat who was dumped on the streets. Her paw cushions were very damaged from the harsh streets, and she'd obviously had the accident that had broken her front leg. She would walk painfully on the knee of her broken leg.
Even though FA's director was reticent to take back Sage to her former neighborhood due to the broken leg, it was imperative to do so to track her kitten since prior searches for the little one had been unsuccessful. Her other teats (nipples) were all dry when she'd been rescued, indicating she had lost her other babies much earlier.
Sage led the volunteer to some bushes where her baby was hiding.
The volunteer (Martha) took the baby and then lured Sage back into the carrier by playing kitten cries from her phone inside the carrier.
Both mom and baby were safe with FA now. The tiny 5-week old kitten was named Basil.
As a cute side-note Sage also acted as a surrogate for another little kitten – an orphan we named Thyme – who was found crying and wandering on the streets all by himself. Thyme spent some time with Sage before being transferred to another cat-foster-mom.
While mom and kitty were happy, reunited and no longer hungry, there was still a long road ahead. Sage had to get antibiotics, had a cold and was sick. But most importantly – her mangled-and-fused front paw needed surgery.
Sage was taken to the vet's for surgery on August 20th. – to leave behind a life of pain. Due to her extensive nerve damage on the leg, the surgeon went for amputation.
Sage's surgery was a success.
She is now slowly recovering and getting stronger every day. This brave mama-cat truly deserves a better life than the harsh one she'd to lead on the streets.
Since For Animals is a non-profit reliant on donations by kind people like you, we are hoping you will help us cover some of the expenses.
Sage's is only one story among many. For Animals has been working round the clock with no break even during the pandemic.
While the total number of intakes between May to August which were housed at the shelter and at various foster homes was around 200, in addition to that number – numerous cats were TNR-ed (Trap, Neuter, Release) for population control.
Other than the $15,000+ spent on TNR of numerous cats over spring and summer, several of the cats need dental too which costs  $500-$1100 per cat even with a rescue discount. There are also significant costs for FVRCP vaccines and rabies vaccines for each rescue as well, plus the daily expenses of food, litter, and medicines as needed for the cats who live in the shelter or for supplying food to the senior folks who generously feed our community cat colonies.
Our mission has always been to help find loving homes for these vulnerable cats—friendly companion animals or our more feral felines, who make great barn cats. In addition to financial resources we also have a great need for big-hearted people to open their homes to foster and adopt.
Your kindness truly transforms lives. See a few of the examples in the video of just some of the lives that have been transformed. There are many others.
Please help us help the innocent and the defenseless.
Your help and compassion is needed now more than ever.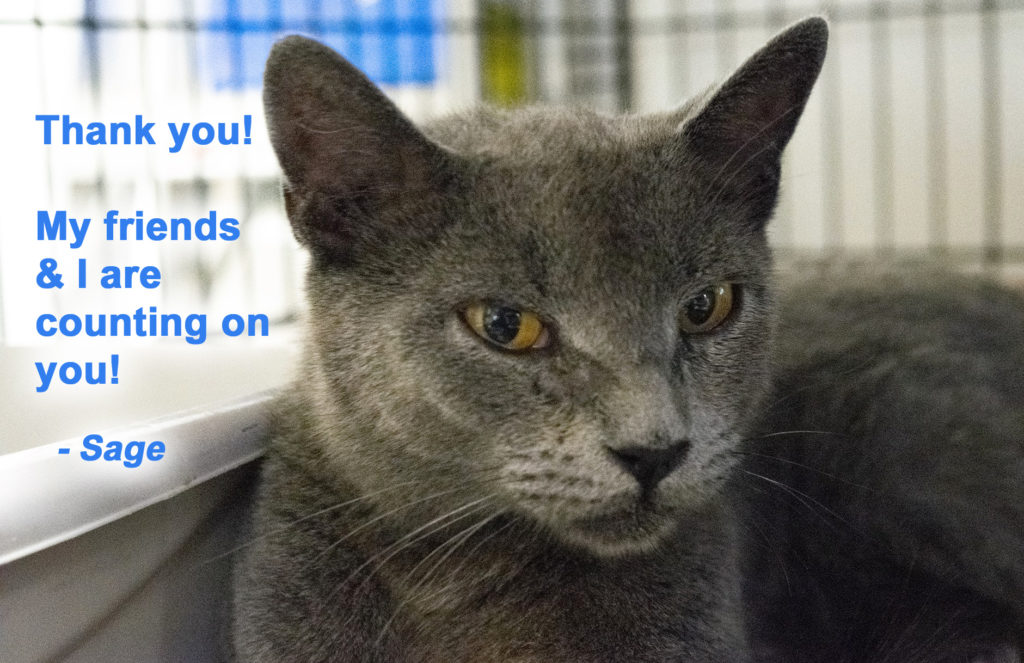 Any amount helps! Please feel free to enter a custom amount. Thank you for your support!
UPDATE: Sage's kitten Basil was adopted in November 2020 and Sage herself went to a foster-to-adopt where she faced a long road to recovery and a second bout of illness. She is completely healed now and officially got adopted in early February 2021! We are SO grateful for your help! The other cats featured in this video have also found their forever-homes!
---

Extra: A look back into earlier in 2020
The video below gives a brief background of what we do, and the importance of TNR, and what we went through in March, April and early May – the period when New York City was completely gripped by the pandemic and ASPCA clinics were closed. But FA continued on.
The struggle continues.
Your kindness transforms lives. Thank you! https://chuffed.org/project/fa-tnr-fundraiser
UPDATE June 2020: While our Chuffed fund-raiser has ended, we always need help. You can support us through this link: https://www.foranimalsinc.com/donate/
---