PLEASE SUPPORT OUR New Year 2023 FUNDRAISER
Follow this LINK to help kitties in need through our Winter fundraiser
---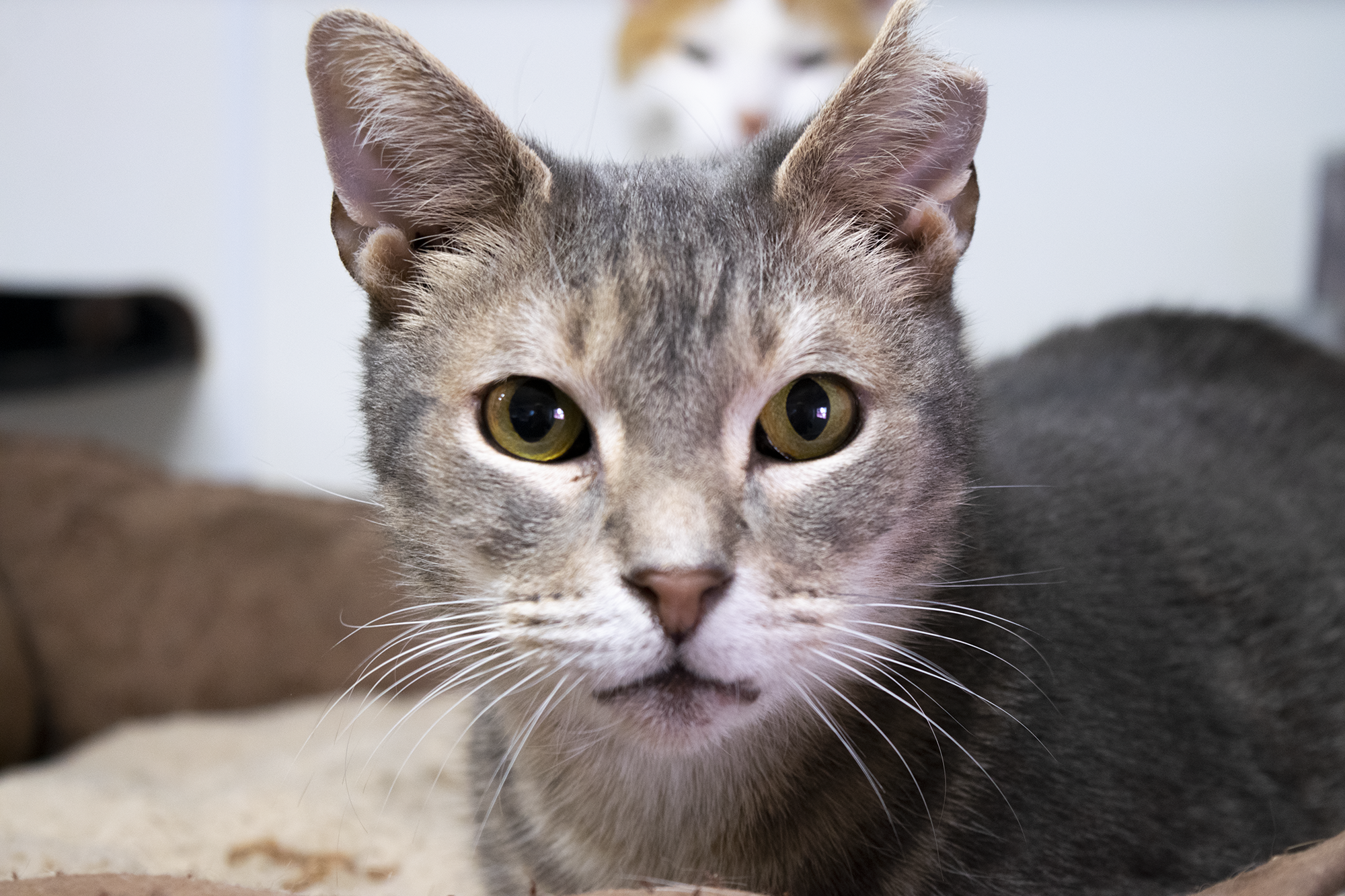 For Animals is a 501(c)3 registered non-profit animal welfare organization based in NYC. Since its inception in 2001, For Animals' TNR program has helped thousands of cats across hundreds of colonies, and educated dozens of caretakers about proper care for feral cats. During this time the For Animals adoption program has also placed a multitude of homeless cats and kittens in loving, permanent homes while raising awareness about companion animal homelessness and the importance of spay/neuter. We also rescue abandoned dogs and adopt them into loving homes, and have rescued a variety of other random animals and birds as well. Even during the pandemic and all its resulting challenges, our network of dedicated volunteers and our founder/director have kept on working tirelessly – rescuing and homing as many animals as possible without a break.

Note: For Animals does not take in animals from the public; our intakes constitute homeless cats out on the streets in addition to cats who go through TNR .
---
At a glance:
For any other questions please feel free to contact us here.  (

If you have found an abandoned/homeless/stray cat that needs rescuing or rehoming, or needs TNR which is outside our target area, please scroll down

on this page

  for rehoming & rescue options.)

For adoption & fostering inquiries e-mail ForAnimalsNYC@gmail.com 
For all other inquiries email ForAnimalsIncNYC@gmail.com 
---
For 21 years, For Animals' founder and our small team of dedicated volunteers have tirelessly worked to rescue, save, TNR, provide vet-care and to foster & home thousands of felines (and other animals like dogs, rabbits, birds and many other species.)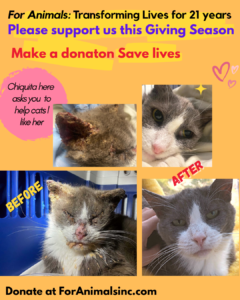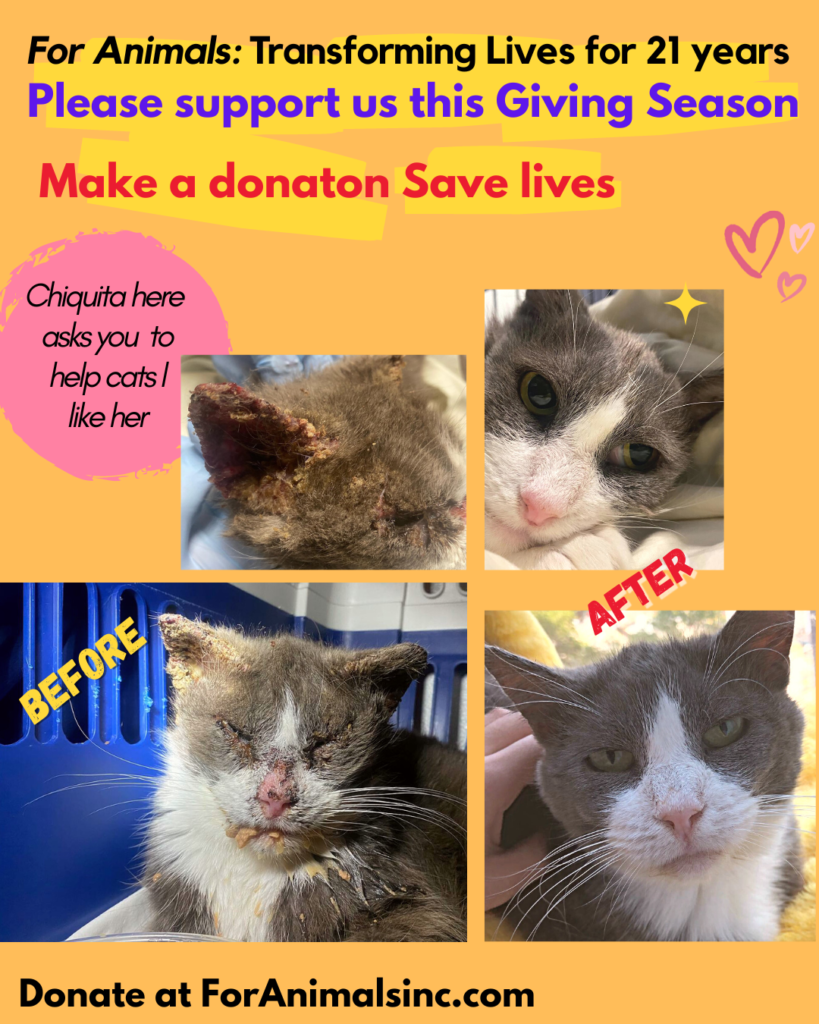 Without a break – battling exhaustion and often insurmountable odds, despite being a small non-profit consisting of a relatively small group of volunteers – we have worked round the clock in several residential and industrial areas, as well as in abandoned sites (The infamous "Hole" for instance) and places considered quite dangerous – through hurricanes, super-storms, a global pandemic, debilitating financial times (such as during the Great Recession, the current Inflation and just general economic hardship), political and policy upheavals,  personal losses, and much more.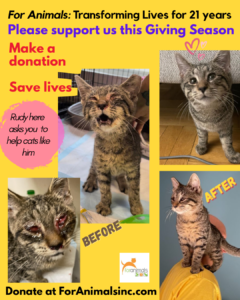 Our focus has always been to alleviate companion-animal suffering and to help control the cat (& dog) populations through educating the public and performing spay-neuters to as many cats as possible. Working with partner veterinarians in TNR and restoring health, and creating a shelter, foster, and adoption program to find homes for as many of these cats in need as possible is part of the process. FYI, we also have a working-cat program where the more feral rescues are sent to barn homes.
In the best of times, having the resources to help the animals is a struggle. In the last 3 years this struggle has increased manifold. This has been compounded with massive never-before-seen numbers of cat-dumping across the world in 2021 and 2022, which followed the 2020 increase of pandemic-adoptions. Due to the closures of the ASPCA-run low-cost clinics during the pandemic in economically suppressed areas, the homeless-cat population increased even more. These factors (clinic closures, pet-dumping, people not spaying/neutering cats, economic downturn) contributed even more to the precarious pressures that small  non-profit TNR groups/rescues like ours already face, with shelters filled up to the max, and the crunch to financial resources needed to keep going.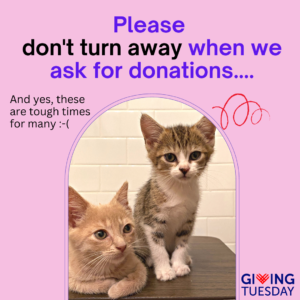 Spay/neuter surgery costs are an essential expense, even with a rescue discount. Vaccines for FVRCP and rabies for each rescue are other important essential expenses. We also have daily expenditure of food, litter, and medicines for the shelter cats and for feeding community cat colonies, where we already perform TNR. Treatment of injured, suffering or maimed cats, sick ones who stand a chance to a better life if treated successfully, as well as those requiring dental procedures (if those are needed) or FIP medication, increase the amounts even more. Every year several hundreds cats and kittens receive our care be they TNR-ed or intakes – the latter housed in the shelter space and in our network of foster homes before they can be adopted into forever-homes. Our annual TNR + intake numbers can vary anywhere from 350+ to 550 cats every year. This is quite a lot taken in by a small group (and a no-kill rescue) which has nowhere near the funding that large organizations (which also run kill shelters) receive.
Your Kindness is essential to this. While our Giving-Tuesday donation drives will occur all through the month of November, and we dearly hope you will contribute in our quest to reach this fundraiser's goal, we will be continuing it all through the winter months, as every dollar helps. 
---
Please watch the video above for Bruno's story. To donate, follow the link: https://www.foranimalsinc.com/current-fundraiser/
We rely on donations such as yours to continue our life-saving work 365 days a year done by our small group of dedicated volunteers. Please help us help the innocent and the defenseless. Your help and compassion are needed now more than ever. 
Any amount helps! Please feel free to enter a custom amount. Thank you for your support! 
Little Bruno was rescued as a kitten in September '21 from a rough parking lot on Jamaica Ave, Queens, NYC, where he'd kept sadly crying loudly all day, but would keep hiding in some bushes when approached. One of our core volunteers finally got him at 10 pm that night. He had been rescued along with another little cat Maria who had been dumped on the Belt Parkway and was limping and scared. Both kittens bonded immediately at their rescuer's, the outgoing Bruno being a comfort to shy Maria and were placed for adoption together that December.
Warm, gregarious Bruno won many hearts at the adoption alcove inside NYC Pet in Park Slope, and much to their joy, finally got into a nice foster-to-adopt situation just two days before New Year 2022. They were so happy to be with their new human who doted on them. Their human recently lost their dad too early this year and the kitten-duo have been a great comfort to them.
Tragically, this March-end, hitherto sweet, playful Bruno started showing signs of sickness and weakness.
His adopter took him to the emergency vet clinic VERG – which ran a series of tests, and after ruling out other possibilities, diagnosed poor Bruno with FIP (Feline Infectious Peritonitis). Just Bruno's VERG bills alone came to around $ 4,500 which his foster-t0-adopter footed.
Bruno is now on the new FIP medication that has proven promising for other similar cats. Should the treatment prove successful he will live a healthy, fulfilling life. We are hopeful and have our paws crossed, as he has responded favorably to the very first dose itself.  In addition to the amount ($4,500) his human has already spent, his FIP treatment and follow-up blood tests will cost another $5,500.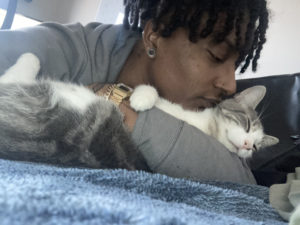 It is a lot for one person and while they adore Bruno and will do everything to help him survive and thrive, For Animals would like to help out his human with the big cost of the treatment. And we are hoping you can help us and help innocent Bruno – who was so full of life before he fell sick, and deserves every chance to be back to his full health and big personality again. So we would like to raise at least half of Bruno's vet and treatment costs. Please help Bruno is any way you can! Any amount helps! You can check out Bruno's diagnoses and costs in the documents as well as visit his fundraiser page to support him here: https://www.foranimalsinc.com/current-fundraiser/    
---
WE ARE SO GRATEFUL TO MADDIE'S FUND FOR AWARDING US GRANT FUNDING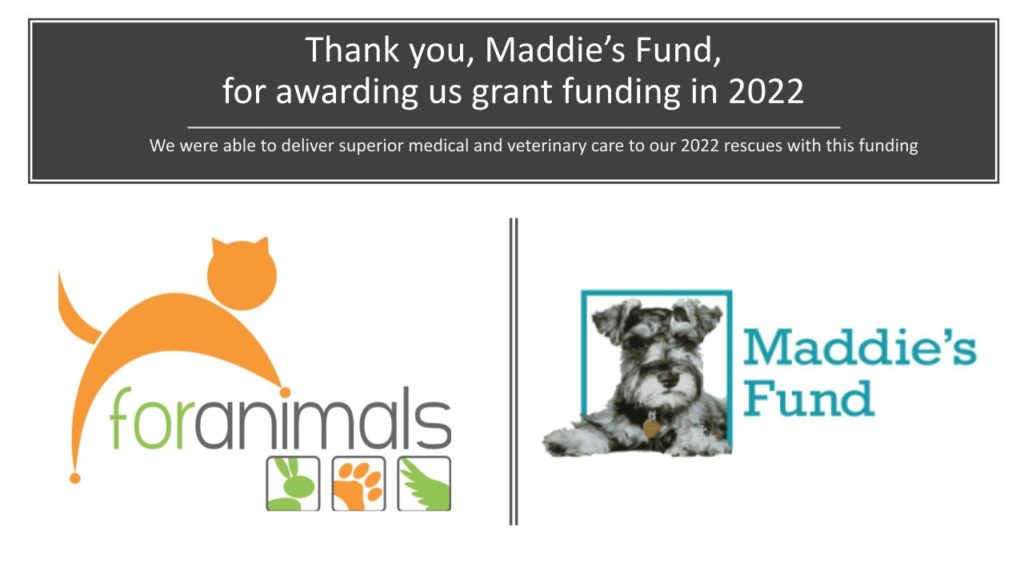 ---
We rely on donations such as yours to continue our life-saving work 365 days a year done by our small group of dedicated volunteers. Please help us help the innocent and the defenseless. Your help and compassion are needed now more than ever. 
Maddie desperately needs your help!
Maddie the cat has a very sad backstory and deserves every chance to live a fulfilling life for the rest of her remaining life where her love is returned fully and without her having to face abandonment.
Maddie was rescued from one of the meanest areas in Queens, NYC, in mid-April. She had lived a sad, hard, unloved  life on the streets for some 6+ years, found in a severely emaciated state, scrounging unsuccessfully for food and shelter, and abused by cruel humans and picked on by other strays.
She was grateful to be rescued. And even more happy to be adopted in late May. But sadly, through no fault of her own, her adopter – who vouches that she is "a total bundle of love," and that she is "cuddly, loving, affectionate, playful" – decided to return her due to her work schedule, just days before her very crucial vet treatment and stay. So currently, besides her upcoming treatment, Maddie is also desperately looking for a foster home where she can recuperate.
For Animals has been committed to take care of Maddie's medical issues from the start, which ranged from needing dental but more importantly curing her heart condition which was a result of hyperthyroidism and needs an expensive iodine treatment, which we are in the process of providing. Please check details HERE.
All in all, it has been a rough ride for Maddie, but also for For Animals – which has had one of its most trying years since its inception due to rising costs, several expensive cat emergencies and the humongous workload that tripled during the pandemic year.
You can check out Maddie's treatment diagnoses and estimates in the documents as well as visit her fundraiser page to support her here: https://www.foranimalsinc.com/current-fundraiser/
---
Rena's Fund for Feline Friends:
Updates: August 20, 2021. This fundraiser has now been converted to one in memory of Rena for her Feline Friends. You can read the full story HERE
July 27, 2021. Rena was rescued by For Animals last year when she was 3 months old.  On her vet visit, she was sent to be diagnosed further and her rare case intrigued doctors.
Rena is scheduled to undergo surgery to treat a rare congenital heart defect – an extra blood vessel between her aorta and pulmonary artery, through which blood flows in the wrong direction.
She's sweet and playful, but she tires easily and has difficulty meowing because of her condition. Without surgery, her prognosis is very poor. But with surgery this beautiful innocent kitty can live a longer, more comfortable life. Won't you help save her life?
She is one of only a handful of cats to have surgery for this condition, so she will be making history! Please send your best wishes for her recovery, and please make a donation to help us defray the cost of this procedure, which is estimated at $5900.  It is A LOT and especially for a small non-profit no-kill rescue as ours.
Any amount helps! Rena is counting on you!
Please visit this link below to donate:
https://www.foranimalsinc.com/rena-fundraiser/
Thank you for your support! 
---
Support our non-profit and help us save the helpless
Please help us save the innocent. We have not let the pandemic stop us from rescuing the most disenfranchised, the abandoned and the defenseless. Despite great challenges we continue our rescue and TNR work. Your help today can save lives. 
Please watch the video to see Sage's sad saga…and a few other examples of how your kindness transforms lives.
Our Autumn fundraiser: https://www.foranimalsinc.com/current-fundraiser/
We rely on donations such as yours to continue our life-saving work 365 days a year. Any amount helps! Please feel free to enter a custom amount. Thank you for your support! 
---
The video below gives a brief background of what we do, and a look at what we went through in March and April….and the struggle continues.
Your kindness transforms lives
You can support us directly through our Donations page. https://www.foranimalsinc.com/donate/ or contribute to any ongoing fund-raiser: https://www.foranimalsinc.com/current-fundraiser/
All donations are tax-deductible and we really need your help.
***