We are working on a brand new site coming very soon.
---
In the meantime,
you can donate here:
For Animals is a 501(c)3 registered non-profit animal welfare organization based in NYC.
---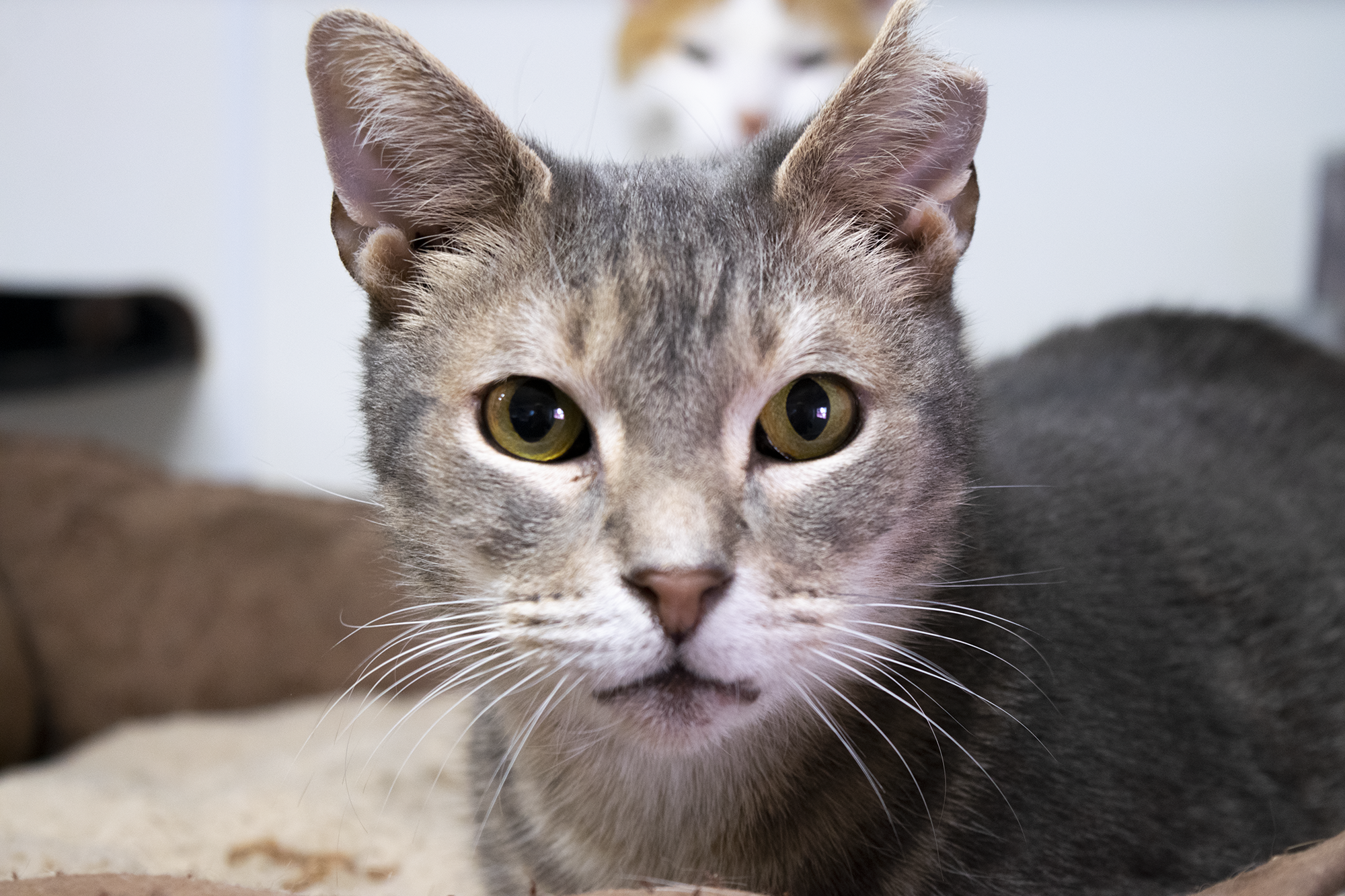 Since its inception in 2001, For Animals' TNR program has helped thousands of cats across hundreds of colonies, and educated dozens of caretakers about proper care for feral cats. During this time the For Animals adoption program has also placed a multitude of homeless cats and kittens in loving, permanent homes while raising awareness about companion animal homelessness and the importance of spay/neuter. We also rescue abandoned dogs and adopt them into loving homes, and have rescued a variety of other random animals and birds as well. 
Note: For Animals does not take in animals from the public; our intakes constitute homeless cats out on the streets in addition to cats who go through TNR .
---
At a glance:
For any other questions please feel free to contact us here.  (

If you have found an abandoned/homeless/stray cat that needs rescuing or re-homing, or needs TNR which is outside our target area, please scroll down

on the contact page

  for re-homing & rescue options and advice.)

For adoption & fostering inquiries e-mail ForAnimalsNYC@gmail.com 
For all other inquiries email ForAnimalsIncNYC@gmail.com 
Homeless animals often suffer and lead short, sad lives, succumbing to illness, exposure, hunger, predation, and cruelty. Our goal is to stop the problem at its source by doing TNR to prevent more litters from being born outside and by educating the general public about the importance of spaying and neutering their companion animals. Due to the large numbers of outdoor cat populations, we cannot adopt/foster our way out of homeless-cat suffering. The ONLY way is dedicated, extensive, compulsory Spay/Neuter & TNR. (Note: For Animals, Inc. is a no-kill rescue/shelter/ TNR-group.)
---
For several years, For Animals' founder and our small team of dedicated volunteers have tirelessly worked to rescue, save, TNR, provide vet-care and to foster & home thousands of felines (and other animals like dogs, rabbits, birds and many other species.)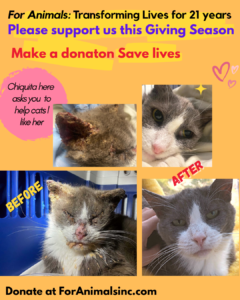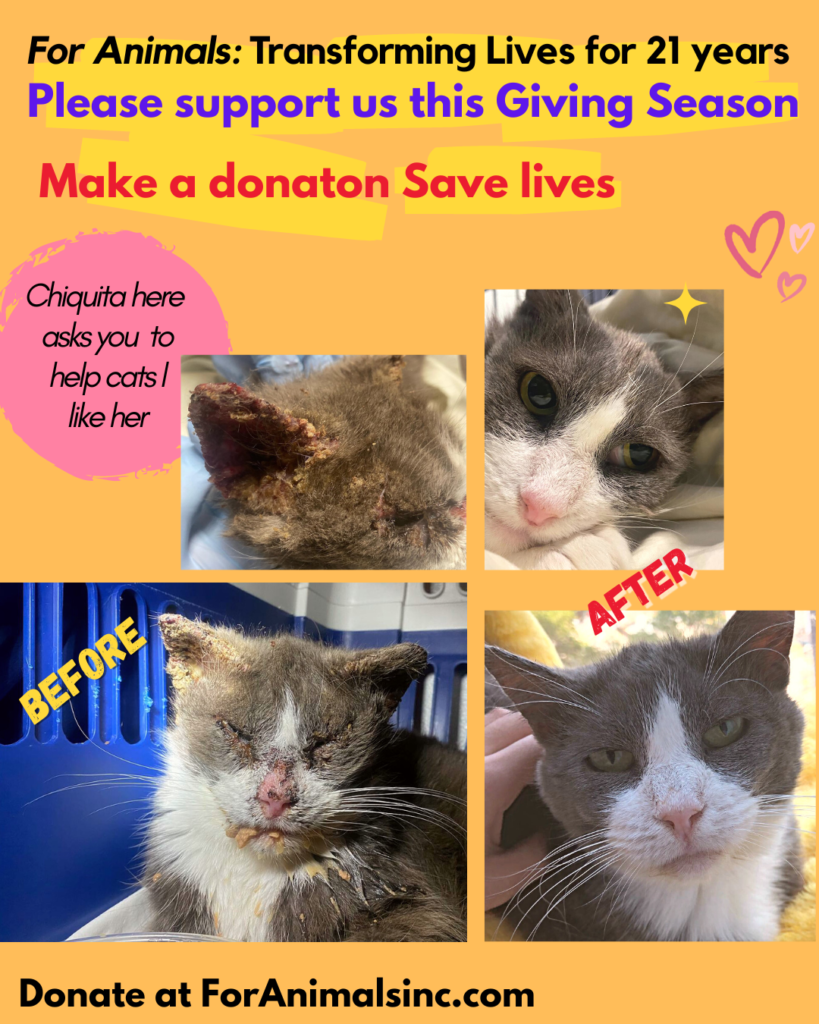 Without a break – battling exhaustion and often insurmountable odds, despite being a small non-profit consisting of a relatively small group of volunteers – we have worked round the clock in several residential and industrial areas, as well as in abandoned sites (The infamous "Hole" for instance) and places considered quite dangerous – through hurricanes, super-storms, a global pandemic, debilitating financial times, political and policy upheavals,  personal losses, and much more.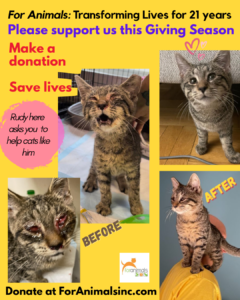 Our focus has always been to alleviate companion-animal suffering and to help control the cat (& dog) populations through educating the public and performing spay-neuters to as many cats as possible. Working with partner veterinarians in TNR and restoring health, and creating a shelter, foster, and adoption program to find homes for as many of these cats in need as possible is part of the process. FYI, we also have a working-cat program where the more feral rescues are sent to barn homes.
In the best of times, having the resources to help the animals is a struggle. In the last 3 years this struggle has increased manifold. This has been compounded with massive never-before-seen numbers of cat-dumping across the world in 2021 and 2022-23, which followed the 2020 increase of pandemic-adoptions. Due to the closures of the ASPCA-run low-cost clinics during the pandemic in economically suppressed areas, the homeless-cat population increased even more. These factors (clinic closures, pet-dumping, people not spaying/neutering cats, economic downturn) contributed even more to the precarious pressures that small  non-profit TNR groups/rescues like ours already face, with shelters filled up to the max, and the crunch to financial resources needed to keep going.   
Spay/neuter surgery costs are an essential expense, even with a rescue discount. Vaccines for FVRCP and rabies for each rescue are other important essential expenses. We also have daily expenditure of food, litter, and medicines for the shelter cats and for feeding community cat colonies, where we already perform TNR. Treatment of injured, suffering or maimed cats, sick ones who stand a chance to a better life if treated successfully, as well as those requiring dental procedures (if those are needed) or FIP medication, increase the amounts even more. Every year several hundreds cats and kittens receive our care be they TNR-ed or intakes – the latter housed in the shelter space and in our network of foster homes before they can be adopted into forever-homes.  It's a lot taken in by a small group (and a no-kill rescue) which has nowhere near the funding that large organizations (which also run kill shelters) receive.
Your Kindness is essential to this. Thank you for your support! 
---
WE ARE SO GRATEFUL TO MADDIE'S FUND FOR AWARDING US GRANT FUNDING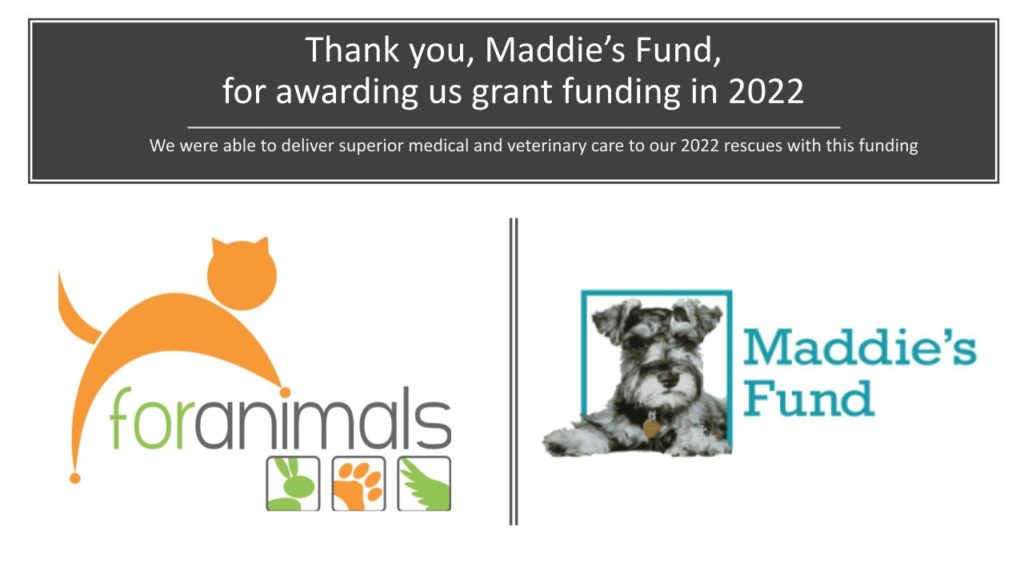 ---
Please help us save the innocent. We have not let the pandemic stop us from rescuing the most disenfranchised, the abandoned and the defenseless. Despite great challenges we continue our rescue and TNR work. 
Please watch the video to see Sage's sad saga…and a few other examples of how your kindness transforms lives.
***