Working Cats for Adoption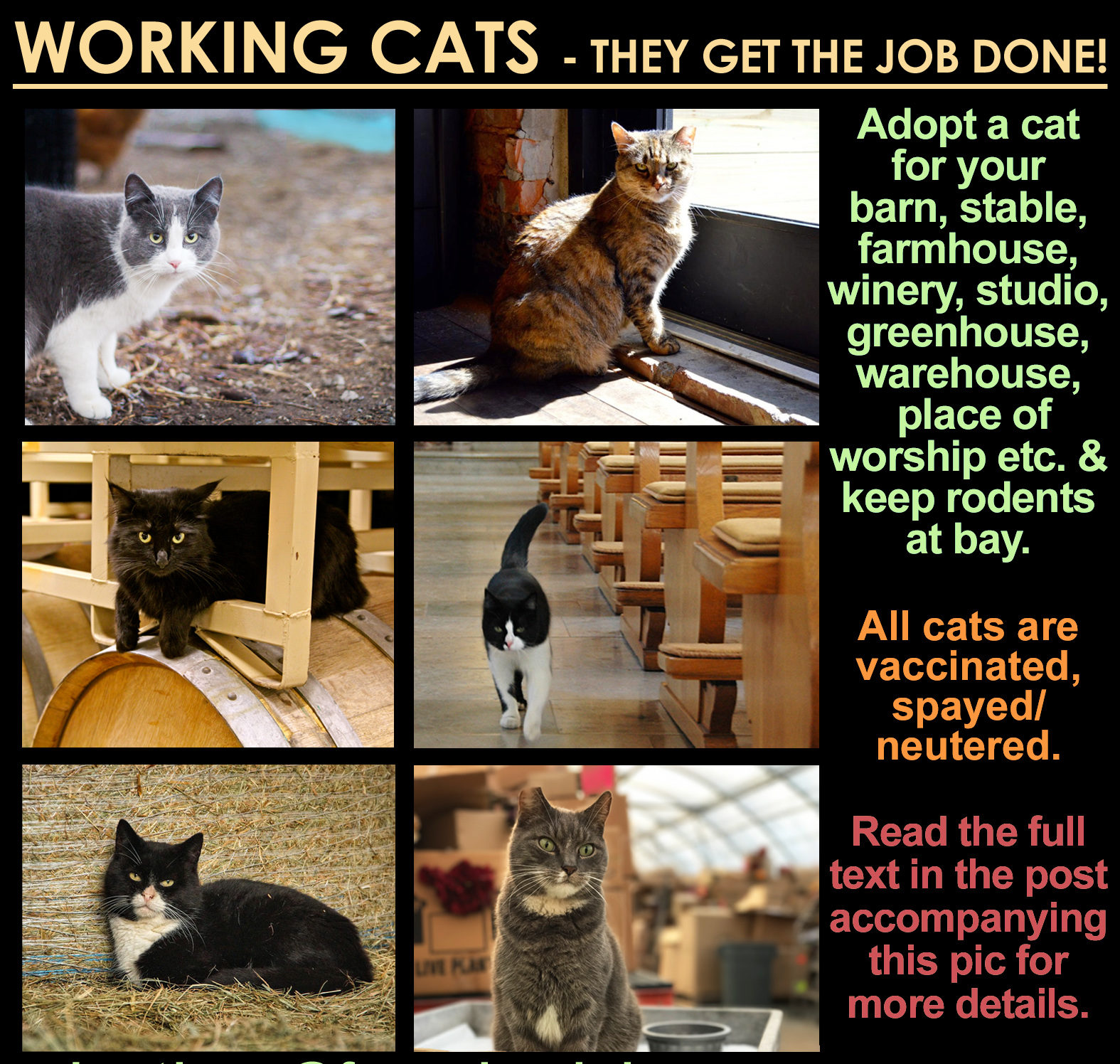 Would you like to keep rodents at bay in your barn, farm, warehouse, winery, studio, greenhouse, church (or place worship/community hall)?
Would you like to save the life of a cat while also having a natural solution to keeping rodents away?
Simple: Adopt a Working Cat!
At For Animals, Inc. we have some wonderful semi-feral kitty rescues (not socialized to live happily as house cats) gladly available to "work" for you.
These cats can put their natural rodent-deterrent talents to good use, thereby reducing rodent-related-problems in your environment. They are  excellent for natural, non-toxic rodent control.
Working Cats are ideal for barns, stables, farm-houses, studios, greenhouses, warehouses, wineries, churches (& other places of worship or gathering) etc.—places that have safe, enclosed spaces with natural light and ventilation.
All our working cats are spayed/neutered and up to date on vaccines prior to placement. These cats are not for individual homes, or as household companion animals but as working cats.
Our working kitties can go to upstate New York and other states as well, if you can arrange their transport.
Please note: While working cats will do their kitty-duties for you when it comes to rodent-control, it is important that you do provide them with food, water and shelter year-round, since in many cases just the smell of feline urine & other kitty-smells may keep rodents away.  You must also provide veterinary care to your feline "employees." As well, please note that we will not allow working cats to be locked up in any dark, windowless basements.
*We cannot pick up your existing feral kitties, however, so please do not contact us in that regard.
How It Works
We screen our working cats' "homes" just as rigorously as we do for our companion cats. But a working cat has different needs and homes must meet different requirements.
Working cats must be kept in their new space for 3 weeks. For Animals loans out

confinement pens

for this purpose.

Shelter must be provided at all times, ensuring the working cats can escape from the elements in any season. For Animals will provide

a

quality shelter

for an additional fee.

Working cats cannot be expected to survive on their hunting catches. Adequate food and fresh water must be provided daily; the cats' natural instinct to hunt will get the "job" done.

Two working cats are better than one! We place our working cats in pairs for companionship.
Request More Info
If you would like more information about our Working Cats program, please fill out the form below.
Please note: If you haven't heard back from us within twelve to fourteen days, please be advised that your application is not under consideration. Due to the large volume of applications, emails, texts and calls we receive, we cannot respond to each inquiry individually at all times when an application is not approved. Applications are also processed on a first-come-first-serve basis so you'll have to wait your turn.  Thank you for your understanding.
There are no paid employees at For Animals, Inc.  All the people who help out are a small group of volunteers who do this along with their regular jobs. We try to respond and process as quickly as we can.
All final decisions regarding the adoption are taken by the shelter director.
If a cat from our shelter is not a good fit, we encourage you to adopt from other rescues and shelters, and you can find a complete list in our Contact page. Thank you again and remember to always #AdoptDontShop to help alleviate animal homelessness.