One-Time Donations and/or Adoption Fee
For Animals is a 501(c)3 organization and all donations are tax deductible. We rely on donations such as yours to continue the life-saving work done by our small group of dedicated volunteers 365 days a year.
Please choose the Paypal Giving Fund button if you have a Paypal account, and For Animals will receive 100% of your donation! (This can also be used for Adoption Fees)

If you don't have a Paypal account and wish to use your credit card, either to support us or to pay your adoption fees, choose the yellow Donate button below. (You can make a one-time donation or adoption fee payment. For monthly sponsors w/o a PayPal account, also click here.)
Monthly Sponsorships
Want to give more often? Signing up for recurring donations gives the animals money they can depend on each month for food and litter.
Felix Sponsor: For $10 a month you will feed 1 cat in our shelter
Heathcliff Sponsor: For $25 a month you will feed 3 cats or spay/neuter and vaccinate 1 feral cat
Garfield Sponsor: For $50 a month you will spay/neuter, blood test, vaccinate and feed 1 adoptable cat
---
For our more recent ongoing fundraisers, please click here
Sage's Surgery
We rely on donations such as yours to continue our life-saving work 365 days a year. Please help us help the innocent and the defenseless. Your help and compassion are needed now more than ever. Any amount helps! Please feel free to enter a custom amount. Thank you for your support!  The donation buttons are set through PayPal. After you click "donate now" it will take you to PayPal's secure site and you'll have the choice of selecting a credit card option or your PayPal account. There is no transaction fee. Thank you.
Sage and other cats need your help
Something for the kitties because it's my birthday!
In memory of Ellen's dear cat, Boo.
You will remember me if we meet again st Theresa . Thank you for chipper and who you are.
This in honor of Kimberly Brooks and her rescue cat, Paprika!
So close to your goal, I want you to get there tonight. Thank you for all your rescue work.
Thank you for all you do for the kitties
Thank you for being a champion for cats!!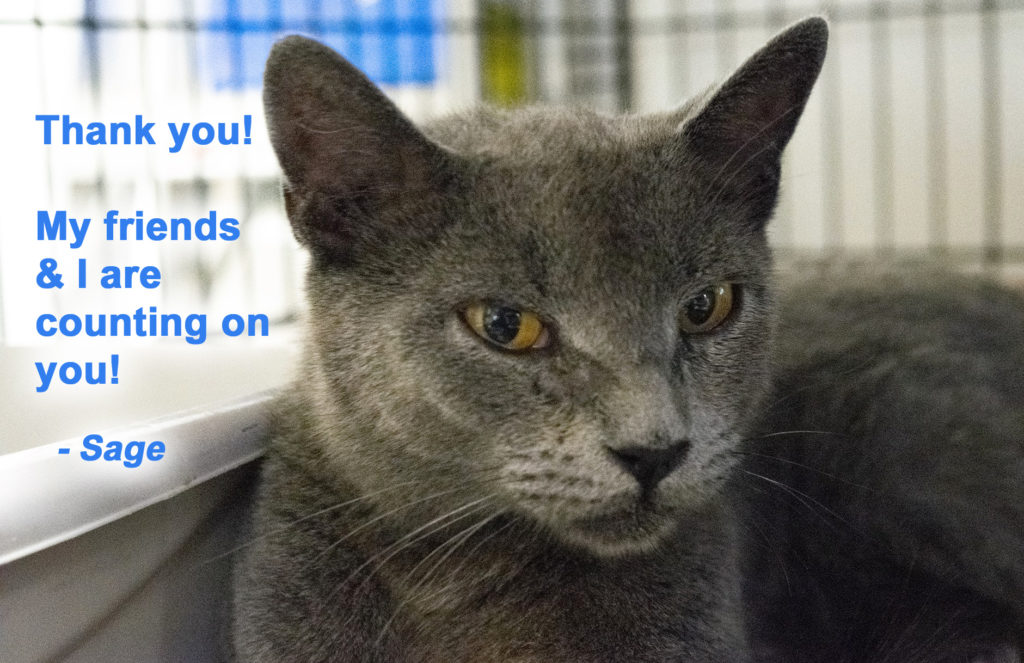 ---
Option 2
If you'd prefer instead to donate directly to our Giving Fund and already have a PayPal account, please click below:

[Note: For Animals is a 501(c)3 organization and all donations are tax deductible.]
---
Support us as we keep going on despite all the challenges in these current times
For Animals hasn't let COVID-19 stop our rescue & TNR work. Your help today can save lives and keep cats safe & healthy. 
Here's a look at what we went through in March, April, May….and the struggle continues.
During these trying times we desperately need your help so we can continue helping those that are defenseless.