We rely on donations such as yours to continue our life-saving work 365 days a year. Please help us help the innocent and the defenseless. Your help and compassion are needed now more than ever.
Any amount helps! Please feel free to enter a custom amount. Thank you for your support! 
The donation buttons are set through PayPal. After you click "donate now" it will take you to PayPal's secure site and you'll have the choice of selecting a credit card option or your PayPal account. There is no transaction fee. Thank you.
Sage and other cats need your help
Something for the kitties because it's my birthday!
In memory of Ellen's dear cat, Boo.
You will remember me if we meet again st Theresa . Thank you for chipper and who you are.
This in honor of Kimberly Brooks and her rescue cat, Paprika!
So close to your goal, I want you to get there tonight. Thank you for all your rescue work.
Thank you for all you do for the kitties
Thank you for being a champion for cats!!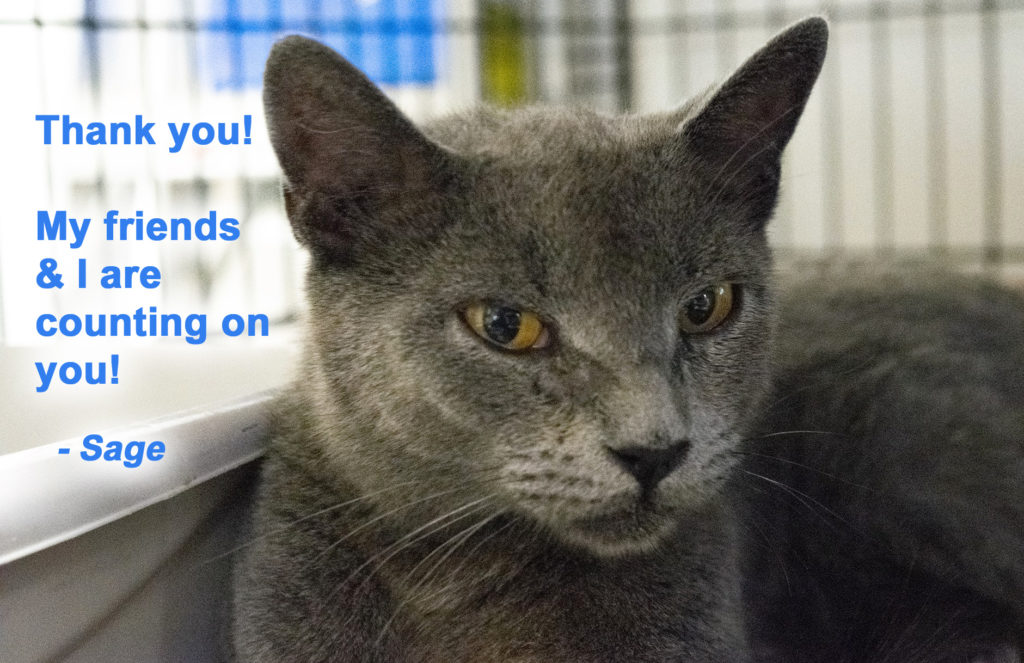 ---
Option 2
If you'd prefer instead to donate directly to our Giving Fund and already have a PayPal account, please click below:
If you've donated to Sage's surgery though our PayPal Giving Fund account, please send us an e-mail at foranimalsincnyc@gmail.com  We'd LOVE to send you a personalized thank-you. We truly appreciate your kindness towards these innocents.
————–
Your kindness makes all this possible!
We rely on donations such as yours to continue the life-saving work done by our small group of dedicated volunteers 365 days a year.Thank you for your support!
---
The sad saga of Sage: Sage a 3 year old mom-cat was found during another separate rescue mission by a dedicated For Animals' volunteer. Sadly, there are many, many like her who need our help every day.
The rescue mission was harrowing and involved scouting through fierce rain and storms – in the search of her lone kitten that this mama-cat was nursing. People in the neighborhood were not helpful and wouldn't answer doors.
When Sage had been found, she had a badly broken leg that had curved and fused inwards. It seems she was a former house-cat who was dumped on the streets. Her paw cushions were very damaged from the harsh streets, and she'd obviously had the accident that had broken her front leg. She would walk painfully on the knee of her broken leg.
Even though FA's director was reticent to take back Sage to her former neighborhood due to the broken leg, it was imperative to do so to track her kitten since prior searches for the little one had been unsuccessful. Her other teats (nipples) were all dry when she'd been rescued, indicating she had lost her other babies much earlier.
Sage led the volunteer to some bushes where her baby was hiding.
The volunteer (Martha) took the baby and then lured Sage back into the carrier by playing kitten cries from her phone inside the carrier.
Both mom and baby were safe with FA now. The tiny 5-week old kitten was named Basil.
As a cute side-note Sage also acted as a surrogate for another little kitten – an orphan we named Thyme – who was found crying and wandering on the streets all by himself. Thyme spent some time with Sage before being transferred to another cat-foster-mom.
While mom and kitty were happy, reunited and no longer hungry, there was still a long road ahead. Sage had to get antibiotics, had a cold and was sick. But most importantly – her mangled-and-fused front paw needed surgery.
Sage was taken to the vet's for surgery on August 20th. – to leave behind a life of pain. Due to her extensive nerve damage on the leg, the surgeon went for amputation.
Sage's surgery was a success.
She is now slowly recovering and getting stronger every day. This brave mama-cat truly deserves a better life than the harsh one she'd to lead on the streets.
Since For Animals is a non-profit reliant on donations by kind people like you, we are hoping you will help us cover some of the expenses.
Sage's is only one story among many. For Animals has been working round the clock with no break even during the pandemic.
While the total number of intakes between May to August which were housed at the shelter and at various foster homes was around 200, in addition to that number – numerous cats were TNR-ed (Trap, Neuter, Release) for population control.
Other than the $15,000+ spent on TNR of numerous cats over spring and summer, several of the cats need dental too which costs  $500-$1100 per cat even with a rescue discount. There are also significant costs for FVRCP vaccines and rabies vaccines for each rescue as well, plus the daily expenses of food, litter, and medicines as needed for the cats who live in the shelter or for supplying food to the senior folks who generously feed our community cat colonies.
Our mission has always been to help find loving homes for these vulnerable cats—friendly companion animals or our more feral felines, who make great barn cats. In addition to financial resources we also have a great need for big-hearted people to open their homes to foster and adopt.
Your kindness truly transforms lives. See a few of the examples in the video of just some of the lives that have been transformed. There are many others.
Please help us help the innocent and the defenseless.
Your help and compassion is needed now more than ever.
Any amount helps! Please feel free to enter a custom amount. Thank you for your support!
---

Extra: A look back into earlier this year
The video below gives a brief background of what we do, and the importance of TNR, and what we went through in March, April and early May – the period when New York City was completely gripped by the pandemic and ASPCA clinics were closed. But FA continued on.
The struggle continues.
Your kindness transforms lives
---